StabPad.com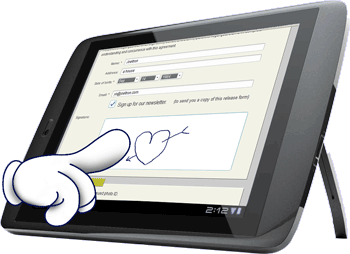 Try out the DEMO version NOW!
What is StabPad?
It's a fully customizable and easy to use release form to help you rid paperwork from your studio while also increasing your customer support.
Why not read up on some more in our
HELP/FAQ Page
!
Why use StabPad.com in your studio?
Go Green!It's a great way to eliminate excess printing costs and keeps trees from being cut down.
It's 100% freeTotes free and ALWAYS will be.
OrganizationKeep all your paperwork and client database in one easy to search spot.
Straight to your emailSo you will NEVER lose a release form.
Back-ups!Back up client databases & subscribers to a spreadsheet.
SecurityNone of your information or your clients will EVER be used or shared.
A great way to organize your paperworkNo more sorting through piles of paperwork.
It sends your client a copyWhich makes you look more professional.
You can fully customize itSet your own fields, change requirements, everything!
Customer DatabaseKeeping a searchable customer database.
Custom URL!You can set your own custom URL to make navigation easier!
It's PIMPWhat is cooler than getting someone to sign on a tablet? Nothing - that's what!